In honor of The Senator, we named our massive Stag-horn Fern for the Old Cypress. Read on ….
Although humanity is destroying the planet quicker than Mother Nature can recover, fortunately, there are still natural wonders in this world that have survived for thousands of years.
All of the trees on this list are/were at least 3,500 years old — unfortunately, a few of these ancient giants were destroyed by human hands.
The rest of the surviving trees on this list are protected to prevent their destruction and one of the oldest individual trees even has a secret location not disclosed to the public. With continued conservation efforts, hopefully these trees will live for thousands of years more.
The Senator
Age: estimated to be 3,500 years
Species: Pond cypress (Taxodium ascendens)
Location: Longwood, Florida
Still Alive: No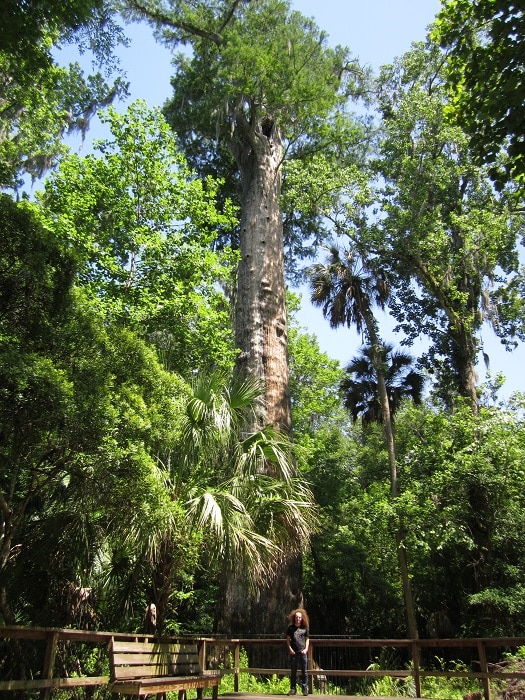 photo source: Wikimedia Commons
The Senator was one of the oldest and biggest bald cypress trees in the world with an estimated age of 3,500 years.
Prior to its demise, The Senator was 36 m tall (118 ft) with a circumference of 10.7 m (35 ft) — the tree was originally 50 m (165 ft) tall, but the top was damaged by a hurricane in 1925.
Unfortunately, the Senator was destroyed by a fire in 2012, which was started by Sarah Barnes and a friend who were smoking inside the tree; she left the fire burning which destroyed the tree from the inside out.
In 2014, a 50-foot-tall clone of The Senator (one of 10 trees cloned from The Senator in the 1990s) was planted in the park and named "The Phoenix."
Did You Know?
In 2013, a group of artists were given permission by Seminole County to make vases, pens, flutes and sculptures from the charred remains of The Senator to pay respect to the fallen tree.
Have you ever visited Big Tree Park? The remains of the Senator are still visible but decaying. Sadly the park was named for the big tree that no longer exists.